Aloe Propolis Cream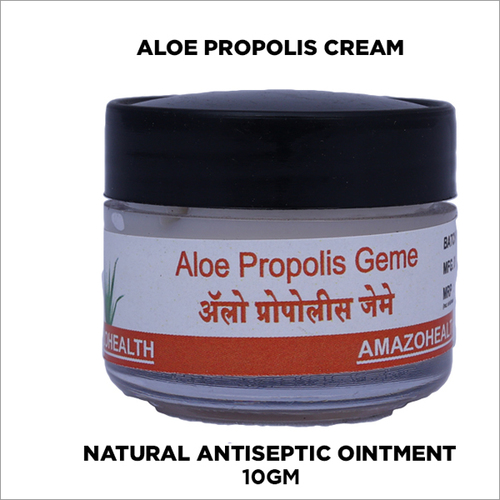 Aloe Propolis Cream
Product Description
Aloe Propolis Cream is advantageous for those with acne-prone skin. Its antibacterial characteristics can combat microorganisms that cause acne, while its moisturising and healing abilities can hasten the healing of acne scars. It has antioxidant, anti-inflammatory, and antibacterial properties.It is well known that propolis has advantageous benefits on the skin.Aloe Propolis Creamtreats UV-induced skin damage and prevents acne while shielding the skin from free radicals.Aloe vera, vitamins A, E, and C, and bee propolis all assist to nourish and hydrate the skin, giving it a smooth, supple appearance and feel.
Aloe Propolis Cream
Code: Natural antiseptic ointments Pomades.
Quantity: 10g
Contents: Patent 100percent pure Aloe vera gel, bee propolis, beta-carotene, chamomile, Vitamin A and E, Glyceryl Stearate.
Indications: For acne, pimples, all skin infections, scars, face, extremities, third-degree burns, open wounds and internal infections such as vaginitis, chancers, cancer wounds, etc. for diabetic foot care.
Mode of Action: Anti-bacterial, anti-viral, anti-fungal enriched with Vitamin A, C, and E, amino acids, polysaccharides, and enzymes. For diabetic foot and open wounds best results when used with Aloe First Spray.