Aloe Mouth Spray (Anti-bacterial)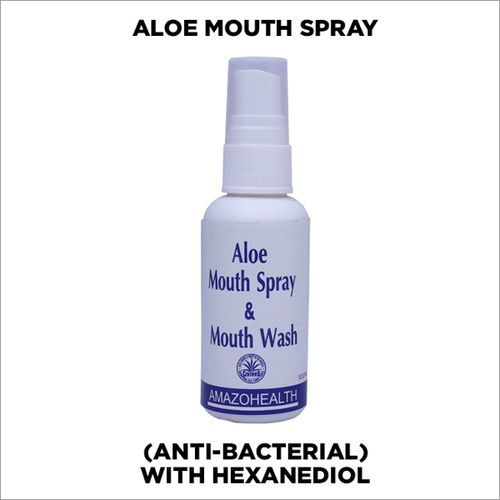 Aloe Mouth Spray (Anti-bacterial)
Product Description
Aloe Mouth Spray Anti-Bacterial is a distinctive herbal blend of yashtimadhu, babool, and aloe vera pulp extract.Natural antibacterial, antifungal, and anti-inflammatory properties are present. It enhances dental hygiene. This spray is tested under various parameters to ensure its high quality and effectiveness. This is widely used and highly appreciated. Aloe Mouth Spray Anti-Bacterial is safe to use. Poor oral hygiene, dry mouth, burning mouth, simple mouth ulcers, and leukoplakia, and are especially useful for individuals who smoke.
Aloe Mouth Spray (Anti-bacterial)
Code: Covid Special, Oral care / Personal care.
Quantity: 100mL/ 1.6 oz
Contents: Patent 100% pure aloe extract with 1,2-Hexanediol
Directions to Use: Spray into the stains, cavities, and all infections into the mouth in all four quadrants and rinse twice daily or after caffeinated beverages and each meals or before going to bed.
Indications: Oral hygiene. Oral plaque, Coronavirus infections, staining on teeth, gingivitis, periodontitis, loose tooth, bad breath or halitosis.
Mode of Action: Anti-bacterial, anti-viral, strengthens gums and oral cavity cells by nourishing it with Vitamin A and C, polysaccharides, enzymes, and amino acids.